Reserve & Collect is the free and convenient way to reserve your airport shopping before you fly.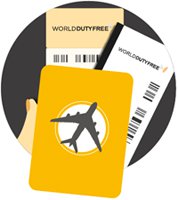 Step 1
Share your flight details. Simply tell us which airport you're flying from, your destination and date of travel.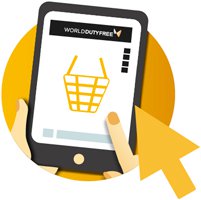 Step 2
Browse the site and choose from thousands of products with great savings against the average UK High Street price.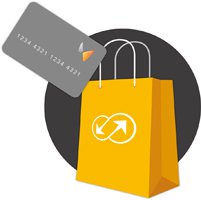 Step 3
Collect and pay for your shopping in store before your flight.
RESERVE & COLLECT
Our fabulous service means you can reserve your airport shopping online between 1 month and 24 hours before you fly.
No more rushing around the airport, you can browse the range on our website at a time that is convenient to you, select your chosen items and then leave the rest to us. When you get to the airport, all you need to do is visit the World Duty Free store in the departure lounge and head to the Collection Point to pick up and pay for your order.
By ordering several days in advance of your flight, you can now choose from an even wider range of products, many of which may not be available in your airport departure store. Make sure you check the website regularly as new products and brands are added every week.
HOW IT WORKS
Step 1
Click on the 'Select Departure Terminal' link at the top of this page and simply tell us your flight details (departure airport/terminal and date of travel). Entering these details will allow us to show you the correct range of products available. You can reserve items between 1 month and 24 hours before you fly.
Step 2
Browse the site and add your shopping to your bag and then follow the checkout process to reserve your items. We will have your order ready and waiting for you when you get to the airport.
Step 3
Once in the departure terminal visit the World Duty Free store, feel free to browse and pick up additional treats and then head to the Collection Point to pick up and pay for all your shopping.
Features of Our Reserve & Collect Service
Reserve & Collect Price Promise
Our Reserve & Collect Price Promise means that you will never pay more for an item than you reserved it for. If the price goes up by the time you fly, you will just be charged the pre-order price; but if the item is on promotion and the price goes down, you pay the lower price. This price promise only relates to items you have reserved online.
Flexible Ordering
You don't pay for your pre-ordered shopping until you collect it. This way, you can still add more shopping to your basket when in store, and if you change your mind about something you've reserved, you can swap or remove items.
No need to register - you can order online as a guest or simply add a password when providing your details to create an account. If you have an account you can access your previous orders, review order status and create a Wish List of your favourite items. It's quick and easy to create an account - simply click here to create an account
You can cancel your order at anytime, just log in to your account to manage your orders.
Reminders
You will be sent an email after you have placed your order confirming the items you want to reserve. Once we have checked our stock we will send you an email confirming that your items have been reserved for you and are ready awaiting collection. Sit back and relax knowing you've saved time when you arrive at the airport.
Collection
When you place your order, we will give you information about which store to collect your order from. Simply follow the signs to the Collection Point in store with your order details and boarding pass to pick up and pay for your order.
Wish Lists
Even if you are not flying any time soon - or flying from an airport which does not yet offer the Reserve & Collect service - you can create a Wish List with all your favourite items and gift ideas for future reference.
Why not Share your Wish List with friends showing them your favourites?
If they are flying, they could pick them up for you at World Duty Free prices. Alternatively use your Wish List as a shopping list and bring it with you when you fly – our in-store teams will be very happy to help you locate your favourite items.
Are you a regular flyer?
By saving the items in your Wish List you can easily checkout the same items each time you fly.
If you fly from various countries, you can create Wish Lists for each country that Reserve and Collect is available in.
Dynamic Currency Conversion
When you collect and pay for your items in store, you will have the choice to pay in your home currency using Dynamic Currency Conversion (DCC). Dynamic Currency Conversion is a convenient service that offers customers an instant conversion to a familiar currency using competitive exchange rates sourced from Reuters Wholesale InterBank, a globally recognised supplier of foreign exchange rates. Exchange Rate Guarantee is available on all transactions.
In Store
There's so much going on online and in store - from fabulous free Beauty Services to Whisky Tasting. Check out our DISCOVER section for more information on our fabulous in store services, events, store information, blogs, competitions and more!
Why not check out our Social Hub to see some of the activities and events that have taken place recently in World Duty Free stores.
Shop & Collect
We also offer a service called Shop and Collect that allows you to leave your purchases with us while you travel. It's not the same thing as Reserve and Collect, and at the moment, you can't pre book it. However, you can combine them once you have bought your goods in store. Click here for more details about Shop & Collect.
More information about World Duty Free can be found in our Frequently Asked Questions page here.
More information about our savings can be found in our Pricing Policy.
For full terms and conditions of using this website and the Reserve and Collect service click here to view.